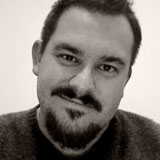 Joshua Foust
Joshua Foust, author of Afghanistan Journal: Selections from Registan.net, is a military analyst specializing in Afghanistan, Pakistan, and post-Soviet Central Asia. His writing, which covers military affairs, geopolitics, and strategic energy issues, has appeared in the New York Times, Reuters, the Christian Science Monitor, World Politics Review, and the Columbia Journalism Review. He blogs at Registan.net and is a regular contributor to PBS Need to Know anda contributing editor at Current Intelligence, a journal of opinion and analysis.
About Joshua Foust
Just World Books is delighted that Foust has agreed to publish his first book, a very timely critique of U.S. policy in Afghanistan that includes much firsthand material he gained during the time he spent on the remote frontlines of the U.S. military deployment there.
Videos of Joshua Foust
Freelance Journalist and National Security Expert Joshua Foust and Jeremy Scahill discuss the U.S. Policy and Covert War in Yemen. And Joshua Foust discusses the war in Afghanistan, Obama's speech and our exit strategy.