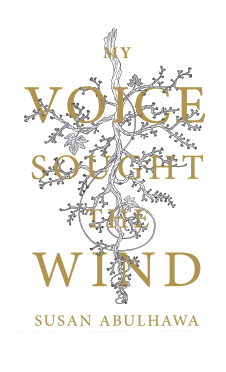 My Voice Sought the Wind
Her flesh open, her soul open, Susan Abulhawa is able to capture in a handful of naked words the infinite anxiety, and the unaccomplished delight, of the wide human experience…Amin Khan, Poet, Author of Vision of the Return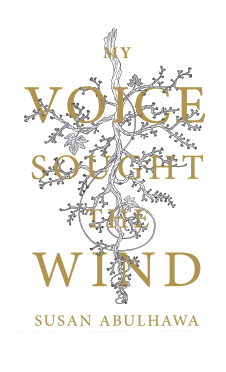 "I wrote poetry before I wrote anything else," says Susan Abulhawa, esteemed Palestinian-American author and social activist, in the introduction to her first book of poems, My Voice Sought the Wind. This work follows her highly acclaimed novel, Mornings in Jenin, which has been translated into 32 languages since it was published in 2010.
My Voice Sought the Wind represents five years of her best poems on the timeless themes of love, loss, identity, and family, brought to life through her vivid observations and intimate personal reflections. She speaks from her own experience, with a style that is romantic, but tinged with disillusionment, often a bit sad and always introspective. The five sections of the book echo her personal journey, from the pain of separation from her homeland and her bitter, yet nostalgic memories of the past, through various phases of love and regret, through the experience of mortality, and finally to her reconciliation with the future and hope of new birth.
Susan Abulhawa's beautifully crafted poems are written in the great lyric tradition of Pablo Neruda and Mahmoud Darwish, and yet possess their own striking originality.Richard Falk
My Voice Sought the Wind resonates with the works of Pablo Neruda and other icons of the world poetic canon, while heralding a powerful new voice that is distinctively lyrical, distinctively feminist, and distinctively Palestinian.
The grapevine cover and interior motifs by the talented U.K.-based graphic designer Muiz complement the poetry by evoking the struggle, pain, promise, and hope experienced throughout the process of cultivating grapes–or poems….
Susan Abulhawa's beautifully crafted poems are written in the great lyric tradition of Pablo Neruda and Mahmoud Darwish, and yet possess their own striking originality. Their themes range widely across a terrain littered with Palestinian memories and torments, the tangled joys of love and loss, and pervading all, an embrace of life itself in all its wildness.
Richard Falk, Author of Palestine: The Legitimacy of Hope
Susan Abulhawa's poetry stems from the long forgotten dark, luminous, tightly knit root of flesh and soul… The figure of the Palestinian she carves from the bark of the olive trees of the troubled landscape of her memory, is that of the oppressed, the violated, the exiled. But then, in her voice, suffering and exile only bring us closer to the intricate and true essence of life – and poetry: a relentless struggle for love, freedom, and dignity… Her flesh open, her soul open, Susan Abulhawa is able to capture in a handful of naked words the infinite anxiety, and the unaccomplished delight, of the wide human experience…Amin Khan, Poet, Author of Vision of the Return
Palestinian resistance has produced some of the most stunning poetry I've ever read and Susan Abulhawa's My Voice Sought the Wind is exceptionally gripping and honest. Her verse can be blunt and potent, allowing us to peek into a world of defiance in the face of a million humiliations. And Abulhawa's words of loving warmth in spite of occupation's dehumanization is a kind of protest that gives me hope for us all.Sherry Wolf, Author, Public Speaker, and Editor, International Socialist Review
My Voice Sought the Wind is available in Paperback ($18)
BUY NOW