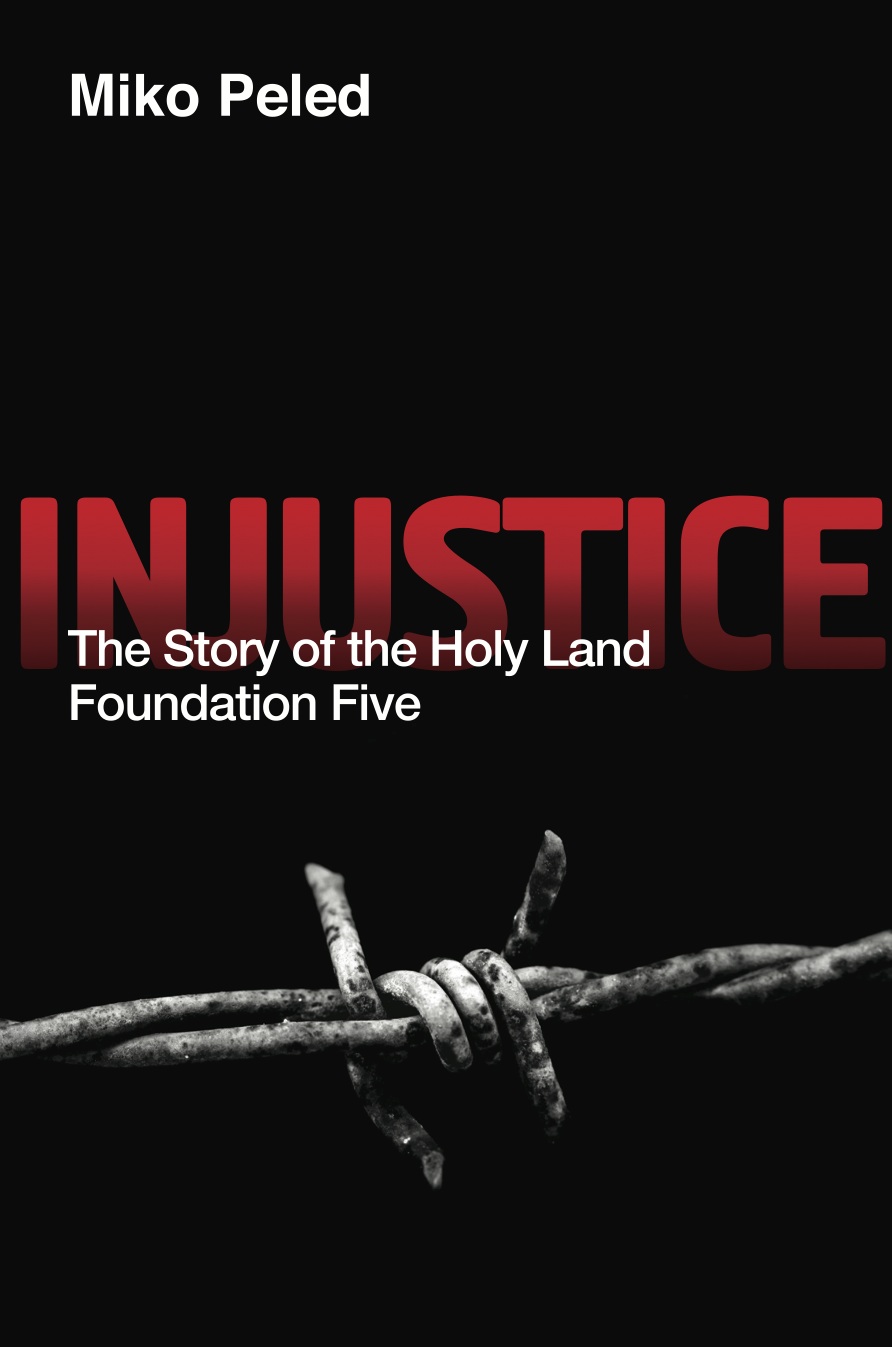 Injustice
The Story of the Holy Land Foundation Five
by Miko Peled
Miko Peled shines a light on one of the most egregious cases of injustice committed to date against Muslim leaders in the United States. ...an ominous and important warning about the degradation of the rule of law and civil liberties that increasingly characterizes American society.  Chris Hedges, Pulitzer prize-winning journalist and former Middle East Bureau Chief for The New York Times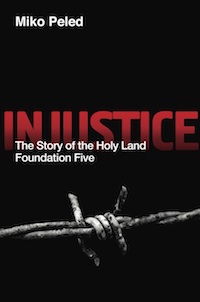 Injustice: The Story of the Holy Land Foundation Five
In July 2004, federal agents raided the homes of five Palestinian-American families, arresting the five dads. The first trial of the "Holy Land Foundation Five" ended in a hung jury. The second, marked by highly questionable procedures, resulted in very lengthy sentences—for "supporting terrorism" by donating to charities that the U.S. government itself and other respected international agencies had long worked with.
In 2013, human rights activist and author Miko Peled started investigating this case. He discussed the miscarriages of justice involved in it with the men's lawyers and heard from the men's families about the devastating effects the case had on their lives. He also traveled to the remote federal prison complexes where the men were held, to conduct unprecedentedly deep interviews with them. Injustice traces the labyrinthine course of this case, presenting a terrifying picture of governmental over-reach in post-9/11 America.
Miko Peled's vivid, intense, and detailed account of the case of the Holy Land Foundation 5 proves without a shadow of a doubt that it was a political case in its entirety. Injustice is a must-read book for anyone who wants to know how after 9/11, the US criminal justice system has been undermined and become another tool utilized by the pro-Israeli camp to silence and intimidate Palestinian Americans. Peled thoroughly presents the decade long campaign to criminalize the giving of humanitarian aid to other Palestinians living in poor communities and squalid refugee camps, and how the US government has failed to uphold its ideals as these men came to the US for freedom, only to be ultimately denied their freedom.Prof. Dr. Sami A. Al-Arian, Director and Public Affairs Professor, Center for Islam and Global Affairs, İslam ve Küresel İlişkiler Merkezi
Miko is a dedicated storyteller who approaches the difficult and complex Holy Land Foundation case in a sensitive, careful, and methodical manner while doing so with a humanistic focus on the impacted families. Injustice is a must-read for it provides a window into another painful dimension to the continuation of Palestine's and Palestinians Nakba—but this one unfolds in the diaspora. For Miko, narrating the HLF case is a part of a long journey toward doing acts of justice that in a small way can contribute to putting Palestine back on the map.Dr. Hatem Bazian, U.C. Berkeley and Zaytuna College
This book is a compelling and moving account of the lives and trials of the Holy Land Foundation Five. It makes a convincing case that these 5 men are paying with long prison sentences  for the 9/11 attacks, which they had nothing to do with. The book also demonstrates that US American juries are unable to be fair and just in cases that revolve around Palestine/Israel, since few have an unbiased understanding of the issues. Under such conditions, government prosecutors can allege just about anything, play on widely held stereotypes, and win, whether their case has any merits or not. Justice was not, and can not be, served.Louise Cainkar, author of Homeland Insecurity: The Arab American and Muslim American Experience after 9/11 (2009, Russell Sage Foundation, New York).
Miko Peled tells the riveting story of a grave miscarriage of justice against the Holy Land Five. Capitalizing on post-9/11 Islamophobic hysteria, the US government used secret evidence, conflating charity with terrorism, to convict five Palestinian men of providing material support for terrorism. Peled analyzes the case in the context of Israel's brutal occupation of the Palestinian people and provides unique personal accounts of the defendants. A must-read for all who seek the truth about how the US and Israel work hand-in-glove to oppress the Palestinians.Marjorie Cohn, Professor Emerita, Thomas Jefferson School of Law
The destruction of the Holy Land Foundation, the largest Muslim charity in the United States, and the prosecution and draconian prison sentences of its leaders—the Holy Land 5—constitute one of the great judicial injustices in the "War on Terrorism," of which there have been many. In a prosecution infused with the often deadly prejudice of Islamophobia, the U.S. government, relying on the testimony of anonymous Israeli "security experts," convicted the five men of the "crime" of providing humanitarian aid to Palestinians suffering under an illegal and punishing occupation. This case is one of several repressive post–9/11 U.S. prosecutions that have been brought with the assistance of the Israeli security police, targeting U.S. based Palestinian Muslim activists. Miko Peled's book conveys the humanity of the HLF5 and their families, and should be read widely and shared liberally to help support an international campaign for their freedom.Michael Deutsch, is a human rights lawyer with the People's Law Office in Chicago, the co-author of "Secrets and Lies: the Persecution of Muhammad Salah" (Journal of Palestine Studies), and was defense counsel for Muhammad Salah, Abdelhalem Ashqar, and Rasmea Odeh.
Miko Peled shines a light on one of the most egregious cases of injustice committed to date against Muslim leaders in the United States.  His dogged reporting puts a human face on the suffering these men and their families have endured.  He exposes in damning detail the shameful government witch hunt and abuse of the judicial system that railroaded the Holy Land Foundation Five.  His book is an ominous and important warning about the degradation of the rule of law and civil liberties that increasingly characterizes American society.  Chris Hedges, Pulitzer prize-winning journalist and former Middle East Bureau Chief for The New York Times
The conviction and imprisonment of the Holy Land Foundation Five was and remains a travesty of justice. Kudos to Miko Peled for shedding light on the case-and on the human lives impacted-in this important book.Jen Marlowe, author of "The Hour of Sunlight: One Palestinian's Journey from Prisoner to Peacemaker"
Peled details a phenomenal, albeit horrifying, story about the most important legal case Americans have never heard of. Injustice exposes the hypocrisy of the US empire's sham 'War on Terror', and the depths it will go to destroy Palestinian life.Abby Martin, Host of "The Empire Files"
The trial of The Holy Land Foundation was a case that almost all American Muslims, and Palestinian activists worldwide, followed with great concern. Many people were worried that a fair trial would be impossible, not only in a post 9-11 world, but also given the incessant negative stereotyping of Palestinians and their quest for freedom under Apartheid rule. / In this ground-breaking book, Miko Peled investigates the shady tactics of a vindictive justice system that was blinded by prejudice against an NGO that even the US government itself had at times cooperated with. While it appears that those convicted in this trial will not see justice in this life, the least that they deserve is that their story be told fairly, and that future prosecutors and lawyers learn from the mistakes that occurred in this tragic saga of judicial abuse on American soil. It is only a matter of time (in large part because of the efforts of Miko Peled and others) before this trial will be seen in American legal history as a classic example of a miscarriage of justice against Muslims and Palestinians in an era of an Islamophobic America.Yasir Qadhi, Dean of Academic Affairs at AlMaghrib Institute
Miko Peled has written a moving and compelling story of the men ensnared by the government's prosecution of what was once the largest Muslim charity in the United States. In so doing, he reveals the cost to the Holy Land 5 and their families in clear, human terms that should challenge many of the cultural misconceptions that have gone into fighting a 'war on terror.' Additionally, Peled shows the sheer negative impact that alleging terrorist links can have on the law, twisting basic principles of due process and constitutional protections beyond recognition.Wadie Said, author of "Crimes of Terror: The Legal and Political Implications of Federal Terrorism Prosecutions"
Injustice is available in Paperback ($22.95) and Ebook ($20.99) formats
BUY NOW