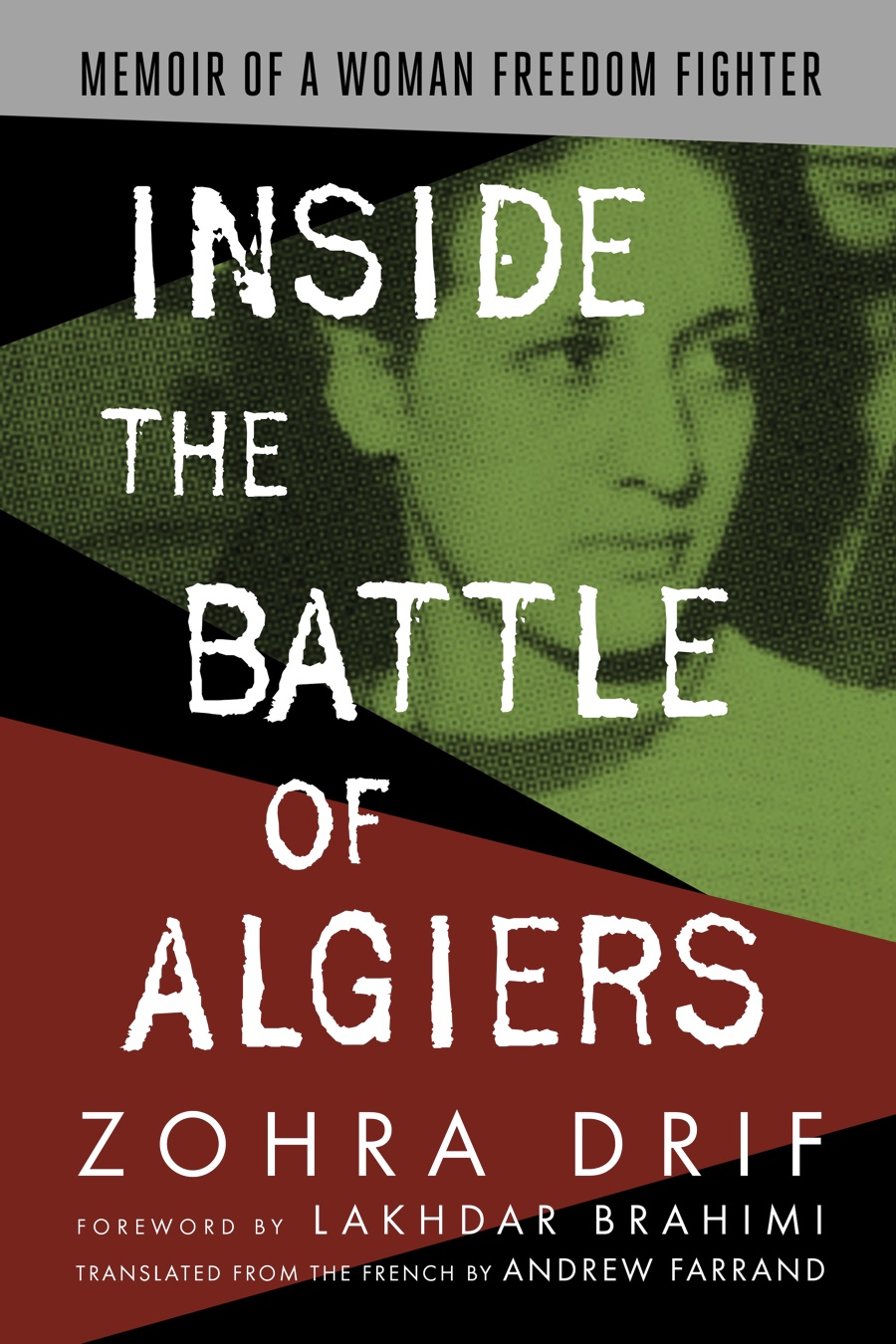 Inside the Battle of Algiers
Memoir of a Woman Freedom Fighter
by Zohra Drif
Translated from the French by Andrew Farrand
Foreword by Lakhdar Brahimi
"Zohra Drif [is] a living legend of the Algerian freedom movement… one of the most engaging memoirs to come out of the period of decolonization."Vijay Prashad
author, The Darker Nations: A People's History of the Third World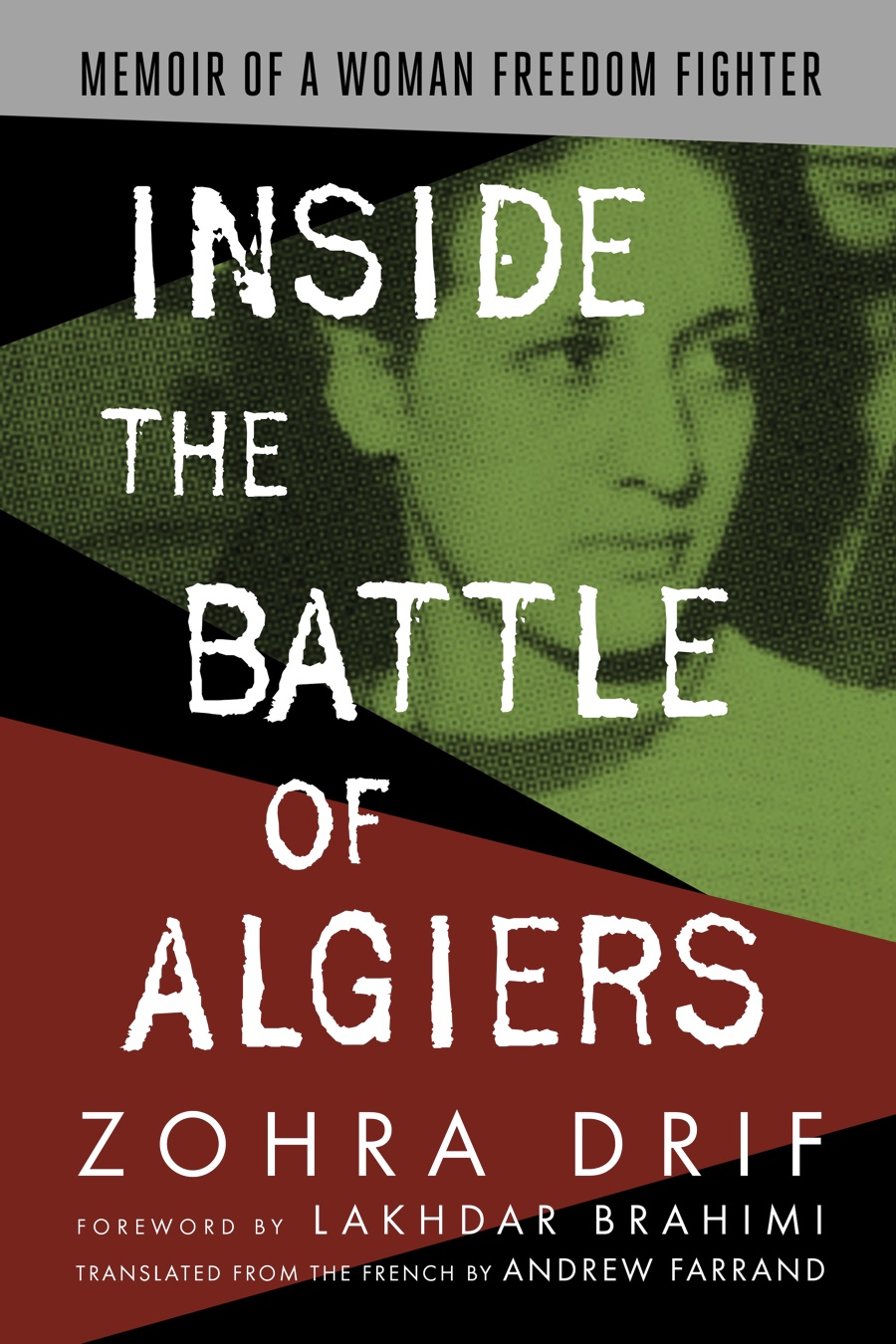 Inside the Battle of Algiers
With a foreword by Lakhdar Brahimi, this gripping insider's account chronicles how and why the author, as a young French-educated woman in 1950s Algiers, joined the armed wing of Algeria's national liberation movement to combat her country's French occupiers. When the movement's leaders, driven underground by the French security services, turned to Drif and her female colleagues to conduct attacks in retaliation for French aggression against the local population, they leapt at the chance, engraving their names among Algeria's most iconic historical figures. (Their actions were later portrayed in Gillo Pontecorvo's famed film "The Battle of Algiers".)
When first published in French in 2013, this intimate memoir met with great acclaim—and no small amount of controversy. It is essential reading for anyone seeking to understand not only the anti-colonial struggles of the twentieth century and their relevance today, but also the specific challenges that women often confronted (and overcame) in those movements.
Zohra Drif is a hero of Algeria's war of national liberation. Born in 1934 in Tiaret, in western Algeria, she studied law at the University of Algiers before joining the National Liberation Front. As a core member of the movement's armed wing in Algiers, she conducted or supported several high-profile operations that advanced the revolutionaries' struggle to draw international attention to France's abuses against the local population and the Algerians' need for freedom. Ultimately captured by the French and condemned to twenty years of forced labor for "terrorism", she spent five years in prison in Algeria and France, during which she continued her legal studies and her activism.
In 1962, upon her country's independence, she was freed from prison, and was soon elected to Algeria's first National Constituent Assembly. She co-founded an organization to support youth orphaned in the liberation struggle, and went on to practice as a criminal lawyer in Algiers for several decades. A senator in Algeria's Council of the Nation from 2001 to 2016, she served as a senate vice president from 2003 onward. In 1962 she married Rabah Bitat, one of the founding architects of Algeria's liberation movement, with whom she had three children. Today she lives in Algiers and has five grandchildren.
Lakhdar Brahimi is a distinguished international diplomat who since 1993 has served as the UN's Special Representative in Haiti, South Africa, Afghanistan, Iraq, and Syria. In the 1950s he was one of the leaders of Algeria's national liberation movement, the FLN. After independence he served Algeria in senior diplomatic roles, then became Foreign Minister. He has made many contributions as a global thought leader including on issues of war, peace, and the environment. He is a member of the small, London-based group "The Elders".
Andrew G. Farrand, a native of Baltimore, Maryland, is fluent in French and North African Arabic. Since moving to Algiers, Algeria in 2013, he has worked as a writer, photographer, and freelance translator alongside his day job managing youth exchange and training programs. He blogs at ibnibnbattuta.com.
REVIEWS
"Stunning… Inside the Battle of Algiers has everything: it is the autobiography of the first part of the life of a remarkable woman; an insight into vital historical events; a first-hand view on the ethics of revolutionary violence; and a page-turning true adventure story."James North, Mondoweiss
"…stands with texts like George Jackson's Soledad Brother and Frederick Douglass' Narrative of the Life of Frederick Douglass in terms of its honesty and desire for justice. …a study of the tightrope women in movements like Algeria's Frente Liberacion National (FLN) must sometimes walk. …an emotionally riveting historical adventure that is both exhilarating and breathtaking. …. Like Gillo Pontecorvo's masterpiece film The Battle of Algiers, Drif's memoir is a powerful and unforgettable work."Ron Jacobs, Counterpunch
BLURBS
"Viewers of "The Battle of Algiers" have always had the option of closing their eyes during the disturbing scenes of torture and other violence portrayed in the classic film focused on Algeria's War of Independence. Drif's compelling memoir, however, forces the reader to confront the daily, grinding brutality of France's settler colonial project, and the price paid by the men, women and children who participated in myriad ways in the struggle to defeat it…
|
"Filled with rich detail of the socioeconomic, religious and political context of the period, Drif's account can serve as an engaging and accessible introduction to Algeria, settler colonialism, and national liberation wars for students, just as its amazing first-hand account of the role of one of the FLN's most important female fighters provides new insights and historical material for specialists."Laurie Brand
Wright Professor of International Relations, Univ. of Southern California
"The English translation of Zohra Drif's memoirs is a publishing event. It makes available to a wider audience the life and times of an Algerian woman who was both actor in, and witness to, one of the 20th century's most dramatic independence struggles. As importantly, her autobiography reveals the lived daily realities of what she calls the Algerian "awakening." That political as well as social and cultural prise de conscience took place not only in colonial schools, military service, or the press but also in unexplored places, such as weekly female hammam sessions. There, in the "only domain where women enjoyed unquestioned, inviolable sovereignty," Algerian resistance and identity were nurtured by heroic tales from distant times—and after November 1954 by the latest news about the moudjahidine (anti-colonial combatants.)"Julia Clancy-Smith
Dept. of History, Univ. of Arizona
"Who is Zohra Drif? An Algerian heroine who fought the French, then spent five years in their prisons, she has not been recognized like her two co-fighters Djamila Bouhired and Djamila Boupacha. Until now. With the publication of her autobiography, "Inside the Battle of Algiers," we have a narrative that is engrossing and also provides a new, fresh look at a critical moment in Algerian history. One of the critical but occluded players in the Battle of Algiers, she will now be known to the world through her own eloquent words. Essential reading."miriam cooke
author, Dancing in Damascus: Creativity, Resilience and the Syrian Revolution
"Zohra Drif's book of memoirs is a precious contribution to the knowledge of the Algerian War of Independence…. It shows the decisive role of women in the war…. [It] also sheds light on the miracle of culture in the resistance and the unique, historic ascent of a people that was able to escape from annihilation by finding deep within itself the resources of its values of justice and human dignity, values that have structured its faith and ethics throughout the terrible ordeal of colonial oppression, as well as on the path to political and moral victory.
|
"The Zohra Drif's legacy is two-fold: not only was she an authentic freedom fighter during the war, but she now completes her work by leaving her testimony for her young compatriots, thirsty for truth, and eager to find the trail of the struggle to liberate themselves from the scourges of today."Amin Khan
author, Nous autres, Eléments pour un manifeste de l'Algérie heureuse
"Charting the Battle of Algiers, a critical chapter in the history of the Algerian War in which she came to play a key role as an urban guerrilla, Zohra Drif has written a fascinating, detailed memoir that grants her readers an awareness of the oppression that weighed upon the colonized during the French colonial era and an understanding of the difficult struggle that led to Algerian independence. As she relates historical events through her interpretive lens, Drif insists upon the collective dimension of the war experience and women's role in it."Mildred Mortimer
Univ. of Colorado
"Zohra Drif has given us a powerful, firsthand account of the amazingly courageous role played by women in Algeria's eight-year struggle for independence from France. A major player, Zohra hid out in the Casbah's labyrinth during the 1957 Battle of Algiers. There, she served as a courier between myriad safe houses, organizer of other partisans and even executor of a European café bombing. Zohra unveils her raw emotions when faced with fears of capture and torture and finally betrayal from within nationalist ranks.
|
"From start to finish, it reads like a thriller."David Ottaway
formerly of The Washington Post
"Zohra Drif, a living legend of the Algerian freedom movement, was a moujahida for a country then held in vicious bondage by French colonialism. Here she tells the story of her journey to help free her country, a story which becomes of course the story of the Algerian war of independence. This is one of the most engaging memoirs to come out of the period of decolonization."Vijay Prashad
author, The Darker Nations: A People's History of the Third World
"When the French edition of this book appeared in 2013, I rushed to get it and read it. Although I knew the broad outlines of the story from my early research in Algiers, my interest was especially piqued because of the author, Zohra Drif…. [She] has written a remarkable memoir, filled with fascinating detail about her personal story, the nature of Algerian society on the eve of independence, and the tight-knit group of militants, including herself, who organized the armed wing of the nationalist movement in the Casbah of Algiers in 1956-57. She writes with chilling honesty about her belief that it became necessary to carry the armed conflict to the French civilians in Algiers, and her own role, at age 22, in planting the bomb that exploded at the Milk Bar….
|
Thanks to Andrew Farrand's excellent translation, English speakers can now also benefit from this vivid memoir and history."William B. Quandt
Professor Emeritus of Political Science, Univ. of Virginia
"Of the many hundreds of books written about the Algerian war of independence, none matches Zohra Drif's Inside the Battle of Algiers for capturing the white-hot fervor of a very young Muslim woman student of impeccable family background caught up in her countrymen's savage war of national liberation from France…
|
Hers is a gripping tale, at times feminist as much as nationalist, of a conflict pitting militant anti-colonialist Muslims against a major Western power in which (refreshingly) radical Islam played no appreciable role."Jonathan Randal
formerly of The Washington Post; author, The Tragedy of Lebanon
"This marvelous book is several important things in one. It is the story, recounted with great candor and superbly written, of a remarkable Algerian woman's journey… It is an extremely detailed account of the famous Battle of Algiers and of her own role in it, and one which greatly enriches specialist historians' understanding of this dramatic event. It is, in addition, a very moving tribute to the women of Algeria, which not only describes the indispensable role they performed in preserving Muslim Algerians' identity, traditions and collective self-respect throughout the period of colonial domination but equally the vital role they played, and the extraordinary courage, tenacity and resourcefulness they brought to this, in the war of liberation itself…."Hugh Roberts
Edward Keller Professor of North African and Middle Eastern History, Tufts Univ.
Inside the Battle of Algiers is available in Paperback ($29.95),
and Ebook ($27.95)
BUY NOW