Just World Books is proud to have published numerous books that present either strong voices from Gaza Palestinians, or informative analyses of the situation in Gaza written by US citizens deeply familiar with the situation in the Gaza Strip and the role that international actors play in perpetuating the injustices there.
All these titles are available "wherever good books are sold". That includes via our website, from your favorite bookstore (where it would be great if you could have them order in a number of copies!)– and also via well-known online book retailers, where you might find some good discounts…
If you want to buy– for your library, book-club, or community group– a collection one or more copies of these books the total of whose prices as listed here adds up to more than US$160, contact us to learn what bulk discounts we can offer.
Here's what we think you'll find informative or engaging in each of them: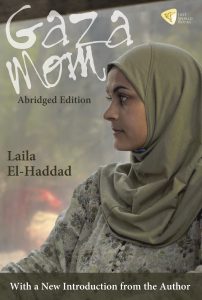 Gaza Mom Abridged Edition (2013) is a 290-page collection of blog posts that Gaza-Palestinian writer and political analyst Laila El-Haddad published on her signature "Gaza Mom" blog between December 2004 and August 2010. During that period, Laila spent a lot of time living in her parents' apartment in Gaza City along with her young son Youssef as she pursued a busy career as a journalist for Al-Jazeera English and other outlets, though she also traveled back to the U.S. to spend time with her spouse, a Palestinian-American not allowed to accompany her to Gaza.
This book has two maps, a Glossary, and some photos, gives a good picture of the predicaments of daily life and of political developments in Gaza in those years.
Paperback: $20.99. Also, ebook versions.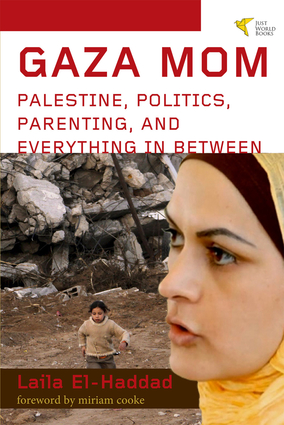 Gaza Mom: Palestine, Politics, Parenting, and Everything in Between was the original (2010) version of Laila El-Haddad's curated-blog-post work from and about Gaza. At 440 pages, it is heftier to carry around and ship, but it has a broader range of great, very engaging content including many more photos, one more map, a few of Laila's favorite poems from Palestinian poets, and so on.
Paperback: $27.99. Also, ebook versions.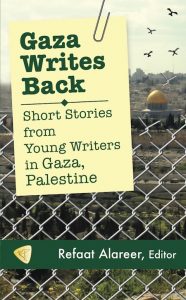 Gaza Writes Back: Short Stories from Young Writers in Gaza, Palestine (2014, 208 pages.) This anthology was edited by Gaza literature professor Refaat Alareer. It presents 23 short stories written in powerful English by members of a generation of young Gazans still reeling from the mega-lethal assaults Israel waged against the Strip in 2008-09 and 2012.
Different contributors to this sometimes very disturbing collection write in the voices of young children… of an old West Bank Palestinian… of a range of "ordinary" Gaza family members… and even, in one case, of an Israeli soldier traumatized by the memories of his time fighting in Gaza.
The stories give an unsparing view of how these young Palestinians view their own lives and those of others.
Paperback: $19.99. Also in ebook versions.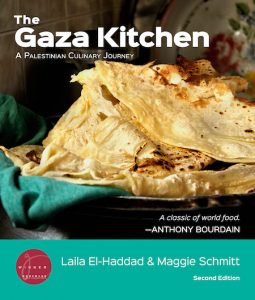 Gaza Kitchen: A Palestinian Culinary Journey, 2nd ed, by Laila El-Haddad and Maggie Schmitt. The 352 lavishly photographed pages of this 2016 edition are a feast for the eyes! But they also, for the first time ever, provide recipes and details for all the staples of Gaza's very distinctive regional cuisine… and provide numerous intimate windows into the lives of Gaza's women and men "in their apartments"– and their farms, markets, food-processing plants, and beaches.
The late, great Anthony Bourdain described this book as "A classic of world food." Yotam Ottolenghi and Sami Tamimi wrote, "The recipes and stories are magically woven together, inspiring to read, to cook, and to eat."
Hardcover: $29.99.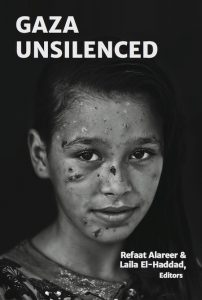 Gaza Unsilenced (2015; 318 pages) is an anthology, co-edited by Refaat Alareer and Laila El-Haddad, of writings that reflect on the experience Gaza's two million Palestinians underwent as a result of Israel's savage mid-2014 assault on the Strip.
Most of the contributors are Gaza Palestinians but Palestinian voices from elsewhere and a few Jewish and non-Jewish voices from elsewhere are included– and Refaat and Laila contributed an informative Introduction and powerful Afterwords. The book also contains a map and several searing photographs.
Paperback: $20.99. Also in ebook versions.
---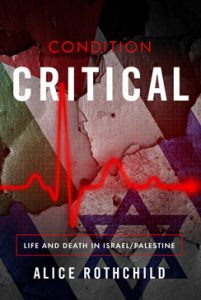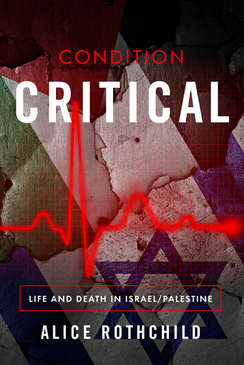 Condition Critical: Life and Death in Israel/Palestine (2016) is an author-curated collection of the blog posts that physician and social-justice activist Alice Rothchild wrote during fact-finding and solidarity trips she took to Palestine/Israel between June 2013 and April 2015.  This book provides a picture of health injustices suffered by Palestinians and other marginalized communities in all the areas under Israeli control that is both broad and informed by the kind of intimate details that only a well-trained clinician would pick up on. In pages 176-241, Alice gives a detailed and extremely rich report on what she saw and heard during her early-2015 visit to Gaza– and includes some of the photos she took there, too.
Paperback: $19.99. Also in ebook versions.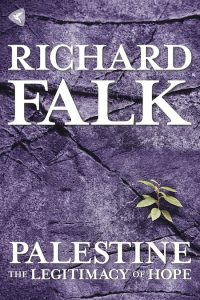 Palestine: The Legitimacy of Hope (2014) is a collection of the writings on Palestine produced between 2010 and 2014 by Richard Falk, the veteran international-law scholar who throughout those years was the UN Human Rights Council's Special Rapporteur on Occupied Palestine.
Falk's book provides essential information about the broader international-law environment in which Gaza's now-51-years-long state of military occupation is now trapped. The second chapter is specifically about Gaza– a subject that he knows intimately. But the rest of the book deepens our understanding of the Palestine Question of which Gaza is such a crucial and inextricable part.
Paperback: $23.99. Also in ebook versions.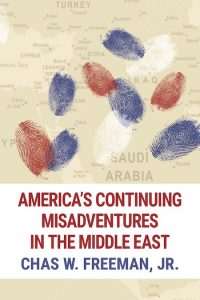 America's Continuing Misadventures in the Middle East (2016) is an author-curated collection of essays on the region written by veteran US diplomatist Chas W. Freeman, Jr. The book as a whole ranges broadly over issues in the international diplomacy of Middle Eastern affairs, but the first of its four parts examines the role of the Israel-Palestine conflict in US diplomacy in some detail, as do portions of the book's other parts.
Hardcover: $33.99. Paperback: $19.99. Also in ebook versions.